Sugar Land Unveils 'Around the Clock' Art: A Tribute to Firefighters' Eternal Vigilance
Posted by Timothy Hampson on Thursday, September 21, 2023 at 2:27:15 PM
By Timothy Hampson / September 21, 2023
Comment
Discover the inspiration behind the new public sculpture at Sugar Land Fire Station No. 3, highlighting the unwavering dedication of firefighters. Crafted by artist Peter Reiquam, the piece is a symbolic representation of their round-the-clock protection.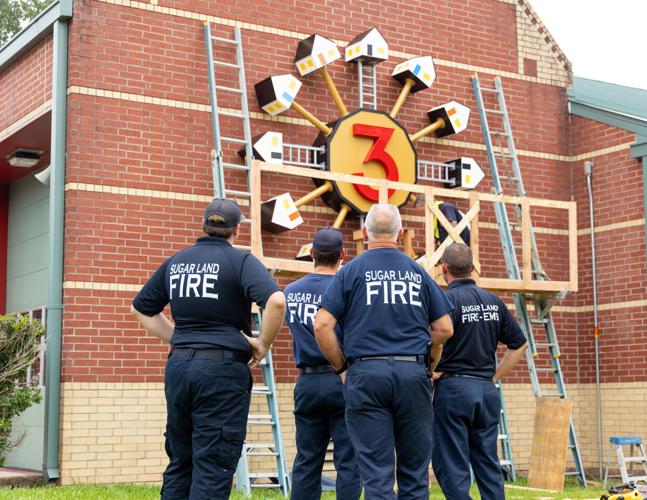 Credits: fortbendstar.com
Every day, firefighters constantly stand guard, ensuring the safety of the communities they serve. Sugar Land Fire Station No. 3 on Settlers Way Boulevard now showcases this sentiment with its latest public artwork: "Around the Clock".
Conceived by Seattle-based artist, Peter Reiquam, this piece is not just a celebration of firefighters but is deeply rooted in the essence of Sugar Land itself. "The artwork mirrors the non-stop protection our fire service provides. While it's not a true clock, its symbolism is unmistakable", described Reiquam. At the heart of the sculpture, a striking number 3 emanates in a radiant starburst pattern, reminiscent of a clock face.
Sha Davis, Sugar Land's Cultural Arts Manager, played a pivotal role in ensuring this artistic vision was realized. "Our city, with its lush parks and lakes, has a vibrant backstory. The addition of public art strengthens community bonds, and our residents are eager for more", Davis remarked. This installation is a continuation of a city initiative that commenced in 2016, aimed at fostering community engagement through art. Davis hinted at more artworks set to grace the city by year-end, with pieces planned for prominent locations like the Brazos River, the Smart Financial Centre, and Oyster Creek Park.
Sugar Land's commitment to public art is evident in installations like the mosaic on Brooks Street Bridge and pieces at the Sugar Land Regional Airport and the historic Sugar Land Auditorium. Notably, these artworks are financed exclusively through a public art fund, ensuring no strain on taxpayers.
Reiquam's "Around the Clock" integrates symbols of community guardianship and uniquely represents Sugar Land's spirit. He incorporated shades of red, blue, black, gold, and white, drawing inspiration from the Sugar Land Space Cowboys' colors. Observant onlookers might also discern a Maltese Cross within the design, often associated with fire departments and symbolizing protection.
Capt. Ryan Garza of the Sugar Land Fire Department's Logistics Division shed light on their longstanding wish for a piece of art that encapsulates the bond between the fire service and the community. Echoing Fire Chief Doug Boeker's sentiments, Garza shared, "This artwork perfectly captures our ethos: 'We're not here for me, we're here for we.' It vividly embodies our role as the community's shield."
Join the community for the public unveiling on Wednesday, September 27, at 4 p.m., located at Sugar Land Fire Station No. 3, 2225 Settlers Way Blvd.